GPS TRACKED AND REPORTED. GUARANTEED!
Leaflet Distribution & Flyer Delivery Service in Dublin and Entire Ireland
Looking to connect with individuals who genuinely appreciate and have a passion for what you offer? You've arrived at the perfect place. Capital Leaflets specializes in targeted flyer distribution campaigns driven by cutting-edge technology, guaranteeing optimal customer engagement and delivering your flyers directly into the hands of your desired audience.
Trusted by brands nationwide
YOUR END TO END FLYER DELIVERY SERVICE
Transform your business into a vibrant, real-world experience
Achieve precision in reaching your desired audience through location-based targeting, enabling you to extend your message across national and international boundaries. Expand your brand presence into unexplored markets, and harness the power of data
to elevate your marketing strategy to new heights.
Shared Leaflet Distribution
Share your leaflet campaign cost with other businesses.
The most affordable and efficient way to reach out to your audience.
Starts at an unbeatable price of €35 per thousand only.
Solo Leaflet Distribution
Looking to achieve an increased impact?
Solo Leaflet Distribution is the solution. Get exclusive advantage over your competitors with our solo leaflet delivery services.
At Capital Leaflets we have access to over 2 million eircodes in Ireland which enables us to deliver mails to direct addressed homes or businesses.
We use our ESRI and ArcGIS powered mapping tools to target specific eircodes or can even fulfil deliveries to all residential or business eircodes in any given map area.
Whatever your industry is, Capital Leaflets has capacity and resource to all direct mail fulfilment based on your requirements.
Campaign Planning
It's important that you make sure your flyers reach the right audience. Otherwise, your message will not be heard by the people who need it most! Strategise your preferred leaflet campaign based on location or demographics. Choose your preferred distribution plan that suits your business. Don't worry! We have your back. Just reach out to us and one of our campaign experts will help you go through the entire planning process.
Design and Print Fulfilment
Get a design for your leaflet that delivers result. Our in-house design experts will help you get that perfect design that suits your business objectives. You may also choose from a wide range of templates we have designed in the past for different industries. At Capital Leaflets we offer the best-in-class printing options at the most affordable price. Your leaflet will represent your brand. So don't compromise! We provide full colour printing options of different sizes and formats to choose from, best suited for your campaign. 
Leaflet Distribution and Reporting
It's our turn now. Sit back and watch your campaign success in real time. All our leaflet distribution services comes with free GPS tracking and 4 step quality check to ensure highest level of service and maximum penetration. Our dedicated distribution manager plans and alocates map areas of your campaign to distribution team qualified and ready to distribute your flyers to every homes in your desired location. Get a live progress report and a completion report of GPS tracking after each map area is completed.
See expample of reports…
Explore our
Mapping Tool

for free
Start planning your campaign with our new Mapping Tool. Calculate in less than a minute your instant leaflet distribution campaign costs with this new mapping tool from Capital Leaflets.
At Capital Leaflets, we provide full end to end leaflet delivery service guiding you through campaign planning, targeting, design, print, distribution, reporting and campaign optimisation. This means when you choose Capital Leaflets for your flyer delivery marketing campaign,
you don't have to go anywhere else.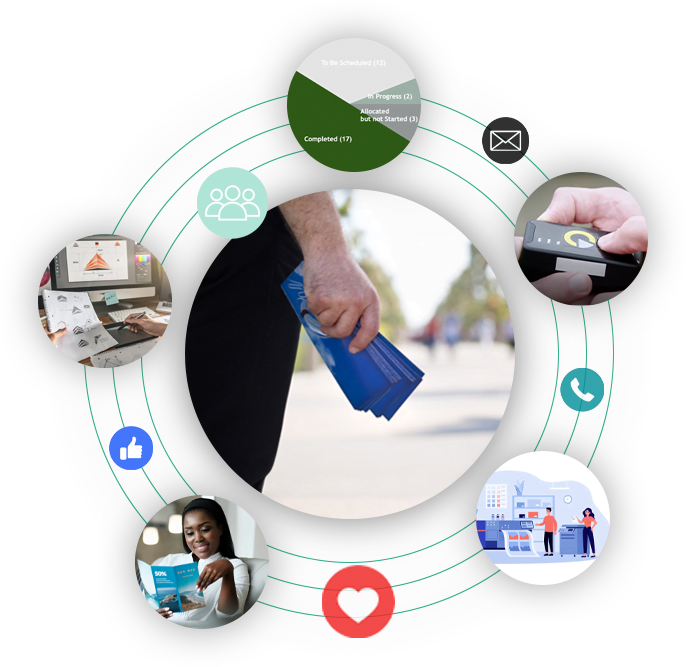 GPS tracking
All our leaflet distribution services are tracked with highly accurate GPS devices to ensure that we haven't missed a single house in your target area.
Regular phone checks
Our quality control team calls random houses in your target area and ensure that they have received and read your leaflet.
Client reporting
We send campaign completion report to all of our clients after each map area is completed. The report includes the GPS tracking images of each map areas.
Quality printing solutions
We offer affordable full colour printing solutions for leaflets, flyers, brochures, menus, of all sizes, shapes and formats. We ensure that you get top quality print materials.
Professional Design
Our in-house graphics designer get you the design that delivers result. Thier experienced eye to detail will help you to represent your brand in the best possible way.
Whatever industry you are from, we've got you covered!
At Capital Leaflets, we have resources and technology to cater any kind of industry. From small local businesses like takeways, restaurants, landscapers, painters to medium sized businesses like estate agents, hotels, credit unions to large businesses like telecom and insurance companies, we have our packages customised for all.
Just reach out to us and our experienced professionals will work with you to produce a bespoke solution that caters to your unique needs and goals.
Ready to launch your leaflet campaign?
Our lazer targeted leaflet delivery campaigns will help you to to expand customer base, boost sales & scale up your business.