GAIN COMPETITIVE ADVANTAGE WITH
Solo Leaflet Distribution
Elevate your brand's impact with solo leaflet distribution from Capital Leaflets. Gain a competitive advantage by reaching your audience exclusively. With Solo Leaflet Delivery and Fyer Distribution Service only your Leaflet, Flyer or Brochure will be delivered in to the doors of your target audience exclusively.
In the fiercely competitive world of marketing, standing out from the crowd is imperative. Imagine having the undivided attention of your audience, a chance to make an impression that lingers. That's the power of solo leaflet distribution, a strategy that propels you beyond the ordinary and into the extraordinary.
Leave Competitors Behind
Solo leaflet distribution gives you an edge that few can match. While competitors share attention, your message takes center stage, ensuring an undiluted impact on your audience.
Maximize Brand Impact
Exclusivity translates into heightened brand recall. Your marketing materials aren't part of a mix; they're the main act, etching your brand into memory for all the right reasons.
Engage Audiences More Deeply
With solo distribution, your message enjoys more space and time with your audience. This extended engagement enhances understanding and builds connections.
At Capital Leaflets Ireland, we understand the power of differentiation. Our solo leaflet distribution services offer you an exclusive avenue to connect with your audience like never before.
A History of Success
Solo leaflet distribution isn't just a novel concept; it's been the secret weapon of politicians, Td's, government officials and businesses looking to beat their competion. Their choice of this strategy underscores its impact in conveying important messages effectively.
Join the League of the Remarkable
Today's marketing landscape demands innovation. The remarkable choose paths that others overlook. Embrace the impact of solo leaflet distribution and stand tall amidst the ordinary.
Higher Rate of Return
Since you are not sharing your campaign with any other business, it is more likely that your audience receives only your leaflet separately and pay special attention to your message resulting in more impact to your campaign.
Exclusive flyer marketing with Solo Leaflet Distribution might be a bit more expensive compared to Shared distribution because you are not sharing the cost of distribution with other businesses. However, this particular mode of Leaflet Distribution has proven to deliver excellent results for many industries.
At Capital Leaflets, our sales experts are happily available to go through your marketing objectives and help you plan your leaflet distribution campaign in the most effective and efficient way.
Ready to take the next step?
Complete the form below, and we'll reach out to you soon to explore the possibilities together.
At Capital Leaflets, we provide full end to end leaflet delivery service guiding you through campaign planning, targeting, design, print, distribution, reporting and campaign optimisation. This means when you choose Capital Leaflets for your flyer delivery marketing campaign,
you don't have to go anywhere else.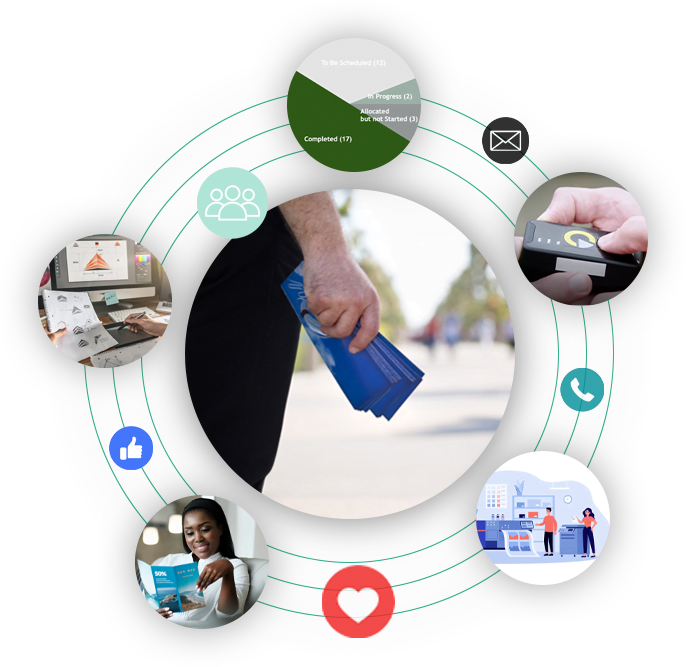 GPS tracking
All our leaflet distribution services are tracked with highly accurate GPS devices to ensure that we haven't missed a single house in your target area.
Regular phone checks
Our quality control team calls random houses in your target area and ensure that they have received and read your leaflet.
Client reporting
We send campaign completion report to all of our clients after each map area is completed. The report includes the GPS tracking images of each map areas.
Quality printing solutions
We offer affordable full colour printing solutions for leaflets, flyers, brochures, menus, of all sizes, shapes and formats. We ensure that you get top quality print materials.
Professional Design
Our in-house graphics designer get you the design that delivers result. Thier experienced eye to detail will help you to represent your brand in the best possible way.
Want to join hands with us and grow your business together?