THE MOST COST-EFFECTIVE WAY
Shared Leaflet Distribution
Starts at just €35 per thousand leaflets
Our shared leaflet distribution services offer an excellent opportunity for businesses to promote their products and services effectively while minimizing costs. By distributing leaflets alongside other businesses' leaflets, this cost-efficient strategy maximizes Return on Investment (ROI) and expands the reach of your marketing efforts.
Starts at just €35 per thousand leaflets
Maximize Exposure and Reach
Shared leaflet distribution allows your business to reach a wider audience than traditional distribution methods. By distributing your leaflets alongside other businesses' materials, you benefit from increased visibility and exposure. Every household that receives a shared leaflet package becomes a potential customer, boosting brand recognition and increasing the likelihood of customer engagement.
Cost-Effective Marketing
For small and local businesses in Ireland, budget constraints can be a challenge when it comes to marketing. Shared leaflet distribution offers a cost-effective solution by sharing distribution costs among multiple businesses. This approach allows you to reach a larger audience without breaking the bank, making it an ideal choice for businesses with limited marketing budgets.
Targeted Approach
Shared leaflet distribution services employ advanced targeting techniques to ensure that your leaflets reach the right households. By analyzing demographic data, such as location, age, and income, these services can strategically distribute your leaflets to areas where your target audience resides. This targeted approach increases the chances of reaching potential customers who are more likely to convert, resulting in a higher ROI.
Increased Brand Exposure
When your leaflets are delivered alongside other business materials, your brand gains exposure to a diverse audience. This exposure not only increases brand recognition but also enhances your credibility. By being associated with other reputable businesses, you build trust among consumers, increasing the likelihood of them engaging with your offers.
Budget Friendly
With shared distribution plan, you share your leaflet marketing costs with other businesses, hence you get almost the same results but at a much lower cost. Shared Leaflet delivery and Flyer distribution is the most cost effective way to promote your business and is used by many brands.
How Shared Leaflet or Flyer Delivery can boost your business?
Shared leaflet distribution services in Ireland offer numerous benefits for businesses, particularly small and local ones.
In today's fast-paced world, why let your potential customers step outside when we can bring your brand right to their doorsteps? Say hello to shared leaflet delivery, a dynamic direct marketing approach that transcends barriers, all from the comfort of your audience's homes.
Picture this: your promotional materials, strategically distributed from door to door, effortlessly engage a diverse range of customers within your chosen locality. This isn't just about sharing flyers; it's about forging personal connections and leaving an indelible mark on your target market.
Imagine the possibilities – launching a groundbreaking product or service, igniting curiosity and excitement among potential customers. But that's not all. Shared leaflet delivery isn't just a one-way street; it's a two-way communication channel. It lets you dive deep into your audience's preferences, helping you understand them better, and thereby fortifying your brand presence.
When wielded with strategy, shared leaflet delivery emerges as a potent and cost-effective marketing tool that can redefine your brand's narrative.
Are you ready to seize the moment and make your brand resonate where it matters most?
Ready to take the next step?
Complete the form below, and we'll reach out to you soon to explore the possibilities together.
At Capital Leaflets, we provide full end to end leaflet delivery service guiding you through campaign planning, targeting, design, print, distribution, reporting and campaign optimisation. This means when you choose Capital Leaflets for your flyer delivery marketing campaign,
you don't have to go anywhere else.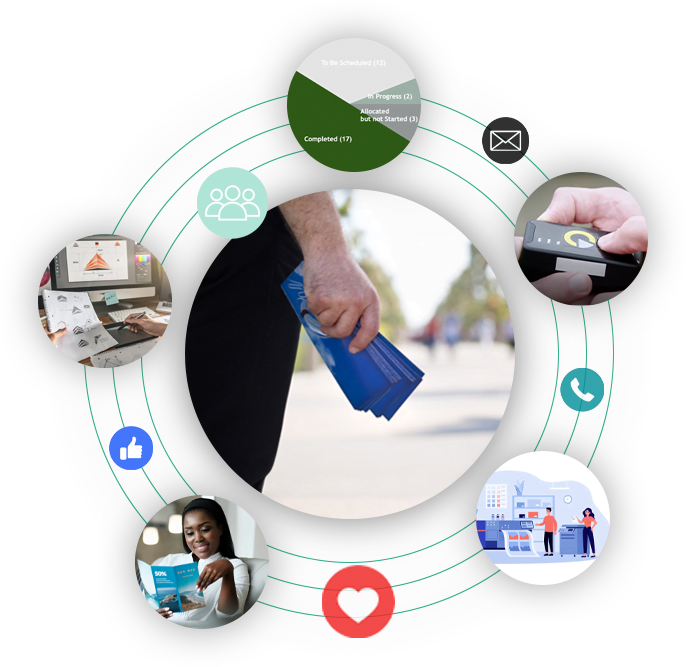 GPS tracking
All our leaflet distribution services are tracked with highly accurate GPS devices to ensure that we haven't missed a single house in your target area.
Regular phone checks
Our quality control team calls random houses in your target area and ensure that they have received and read your leaflet.
Client reporting
We send campaign completion report to all of our clients after each map area is completed. The report includes the GPS tracking images of each map areas.
Quality printing solutions
We offer affordable full colour printing solutions for leaflets, flyers, brochures, menus, of all sizes, shapes and formats. We ensure that you get top quality print materials.
Professional Design
Our in-house graphics designer get you the design that delivers result. Thier experienced eye to detail will help you to represent your brand in the best possible way.
Want to join hands with us and grow your business together?