THE MOST EFFECTIVE MARKETING STRATEGY
With Direct Mail Marketing Strategy, you can reach your message directly to addressed homes of your targeted customers. This will allow your to personalise your message and people will more likely recall your brand. With direct mail marketing you can target your potential customers more precisely.
At Capital Leaflets, we have invested in technology that will help you strategise your Direct Mail Marketing in Ireland in the most efficient and effective way.
Boost Brand Awareness
The tactile nature of direct mail has the power to make your brand unforgettable. Capital Leaflets ensures your message lands directly in the hands of potential customers, leaving a lasting impression that's hard to ignore.
Expand Your Customer Base
Looking to reach new customers? Direct mail marketing opens doors to untapped markets. With precisely targeted campaigns, you can introduce your brand to new demographics, thereby expanding your customer base.
Retain Existing Customers
Direct mail isn't just for attracting new customers. It's a unique opportunity to rekindle relationships with existing ones. A personalized mail piece can remind customers of your value and keep your brand top of mind.
Enhance Brand Recall
Creating a memorable connection is what direct mail does best. Engaging visuals, compelling copy, and the sensory experience of holding a physical piece of mail work together to etch your brand into memory.
How Direct Mail with Capital Leaflets work?
At Capital Leaflets we have access to over 2 million eircodes in Ireland which enables us to deliver mails to direct addressed homes or businesses.
We use our ESRI and ArcGIS powered mapping tools to target specific eircodes or can even fulfil deliveries to all residential or business eircodes in any given map area.
Are you ready to reach your message to the most precisely targeted audiences and make your brand resonate where it matters most?
Target based on Demographic Profiles
Our experience combined with latest technology enables us to comprehend the entire population of Ireland into groups based on their behaviour, interests, demographics, etc. and help you plan your direct mail marketing to any of these groups.
Precise EIRCODE targeted
At Capital Leaflets, we have access to over 2 Million EIRCODES across Ireland that enables us to help you reach your messages direct into the doors of any addressed houses in Ireland.
Personalised Printing
At Capital Leaflets, we have the facility to print personalised marketing materials for your customers. Sending personalised direct mails to your customers is a great way to retain brand awareness.
Ready to take the next step?
Complete the form below, and we'll reach out to you soon to explore the possibilities together.
At Capital Leaflets, we provide full end to end leaflet delivery service guiding you through campaign planning, targeting, design, print, distribution, reporting and campaign optimisation. This means when you choose Capital Leaflets for your flyer delivery marketing campaign,
you don't have to go anywhere else.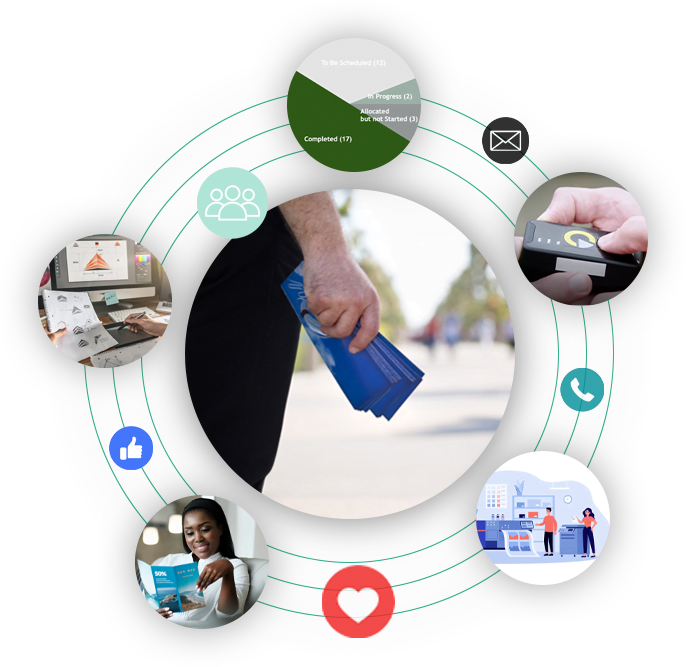 GPS tracking
All our leaflet distribution services are tracked with highly accurate GPS devices to ensure that we haven't missed a single house in your target area.
Regular phone checks
Our quality control team calls random houses in your target area and ensure that they have received and read your leaflet.
Client reporting
We send campaign completion report to all of our clients after each map area is completed. The report includes the GPS tracking images of each map areas.
Quality printing solutions
We offer affordable full colour printing solutions for leaflets, flyers, brochures, menus, of all sizes, shapes and formats. We ensure that you get top quality print materials.
Professional Design
Our in-house graphics designer get you the design that delivers result. Thier experienced eye to detail will help you to represent your brand in the best possible way.
Want to join hands with us and grow your business together?